Overview:
On Aug. 3, 2021, New York City Mayor, Bill de Blasio announced the "Key to NYC" mandate which required patrons of indoor fitness facilities to provide proof of COVID-19 vaccination. In other words, all indoor gym members must be vaccinated in order to utilize their respective clubs. The mandate started on August 16, and after a transition period, strict enforcement would begin on September 13. Non-compliant gyms are subject to a fine of not less than $1,000.
This posed a significant challenge for most gym owners, especially our client, a 20+-year-old fitness chain with over 300 locations across the US, several of which are located within the New York City area.
The Challenge
Our client had the forethought to realize that their front desk staff would not be able to quickly and efficiently process Gym members who would be lining up to show proof of vaccination. This is because the front desk staff would not only be inputting vaccination information for members in the system, but they would also have to verify that all check-ins had the vaccination marker on their records, keep up with incoming phone calls, process new memberships and provide general customer service functions. In the already stressed environment, our client knew that they had to remove all barriers for their members to present their vaccination information and make the process as unobstructed as possible before the Sept 13, deadline.
The Solution
Knowing that First Credit Services has the proven ability to engage large amounts of people in a short period of time, they sought FCS to design a painless verification process for the member that would alleviate pressure off the front desk. We knew we could help our client and immediately started working with them to build a solution. When designing the program, we knew it had to include the following processes:
Provide members with the ability to submit proof of vaccination digitally, reducing the need to use the front desk staff.
Make sure all members are aware of the new way to submit proof of vaccination.
Verification of the vaccination submitted by the members.
Letting members know if vaccination status was approved.
Update members' status in the client's CRM
Within 48 hours we had designed and implemented a solution that engaged members through email and provided them with a portal to upload an image of their vaccination card. Our team verified the members' vaccination paperwork within hours of receiving it, notified the members via email that it was approved. We then accessed our client's CRM and updated the member record indicating vaccination was verified.
The Result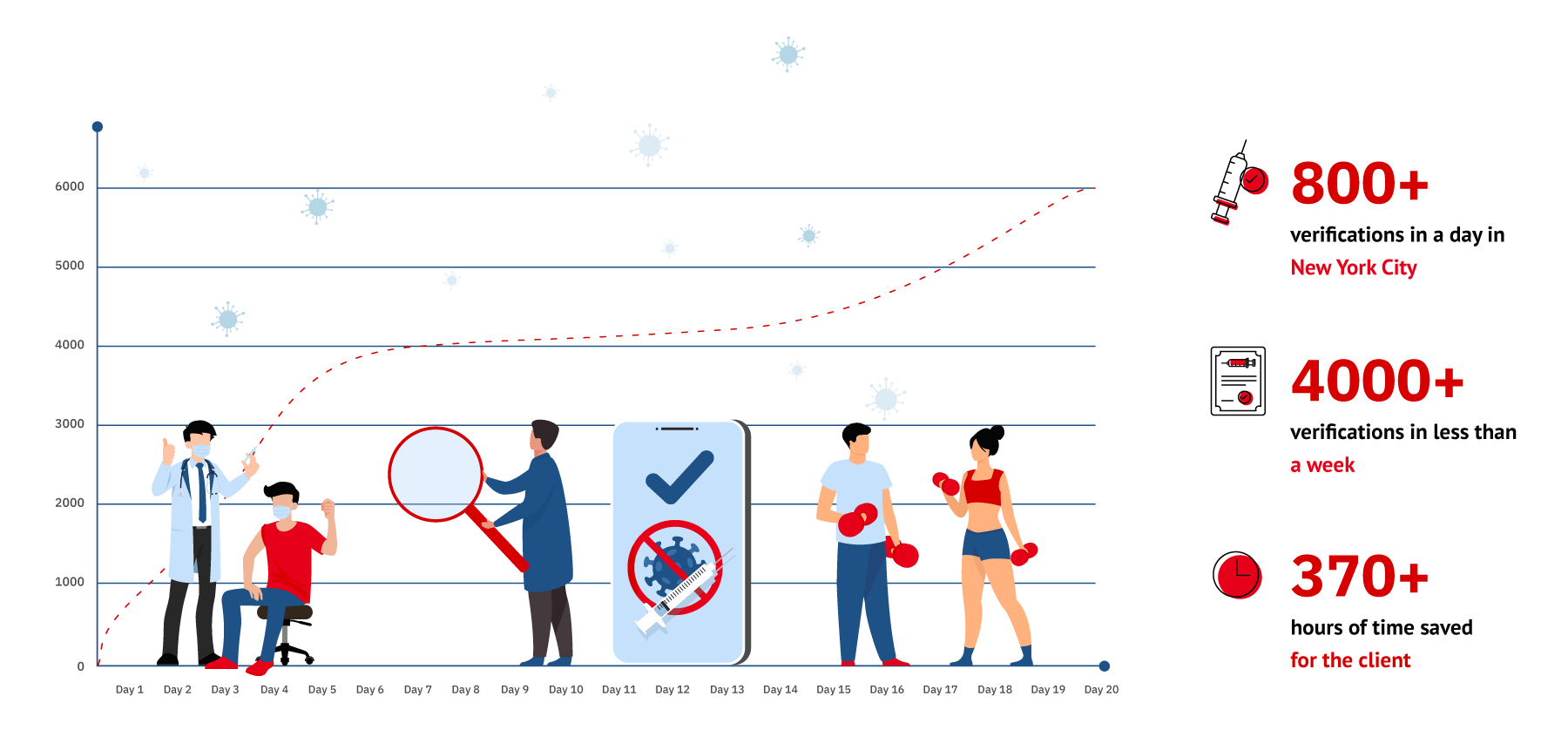 The goal of the program was to drastically reduce the demand on the front desk staff and shorten weight times caused by verifications all while keeping the process simple for members. The results were overwhelming! Within the first two weeks of launch, we had collected over 6,500 members' vaccination cards. We anticipate that we reduced the labor demand on the front desk by almost 300 hours. Thus, with our flexibility, ingenuity, and quickness to action, we have yet again proved that First Credit Services not just excels in the collection space but also has the capability to work with clients to build customized engagement programs that bring in solid results.
With all the states in the US trying to get back to normalcy, there is a high probability that other cities and states will follow in enacting similar mandates. If you happen to fall within one of those cities or need help scaling engagements, First Credit Services has a solution for you. Contact us to know more about our services.